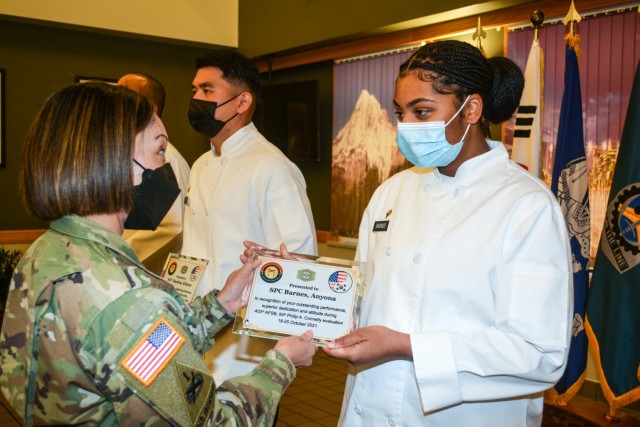 CAMP HENRY, South Korea – The Sustainer Grill Warrior Restaurant, operated by the 19th Expeditionary Sustainment Command, was named the Best Warrior Restaurant on the Peninsula at the 54th Annual Philip A. Connelly Military Garrison Category Competition a ceremony here on November 24. .
"The Sustainer Grill is a top performing Warrior restaurant and tends to be a fierce competitor within the Philip A. Connelly awards program," said Col. Lisa Rennard, brigade commander, 403rd Field Support Brigade army, who was the guest speaker at the ceremony. . "This trend says a lot about the staff at Sustainer Grill. It highlights their passion, expertise, dedication, warrior spirit and desire to be the best.
The Sustainer Grill has won 13 local or Eighth Army Philip A. Connelly Awards over the years and the Sustainer Grill will now represent the Eighth Army in the Department of Army Connelly Competition.
"Winning is a great feeling, especially when you have a team that functions at such a high level and that embraces hard work, dedication and sacrifice," said Staff Sgt. First Class Dianna Franklin, Restaurant Manager, Sustainer Grill Warrior. . "To prepare for the next inspection, we will rely on experience, the best teacher in life, while consistently acting like real professionals on a daily basis, because success is not possessed, it is praised. and the rent is due every day. I think we will do exceptionally well in the competition department of the Army. We're a great team and our hearts are fully engaged because that's what we love to do.
The Sustainer Grill will be inspected by staff at the Joint Culinary Center of Excellence in Fort Lee, Va., And the Department of the Army in February 2022.
"This year's evaluations in the Philip A Connelly Garrison category were very exciting due to the willingness of our Warrior restaurants to compete and be nominated by their food program managers to represent their regions at the 403rd AFSB and 8th Army, "said Chief Warrant Officer 4 Jose Geronimo, Senior Food Service Advisor, 403rd AFSB. "The amount of dedication and investment from the food service commands and professionals was incredible. It's great to see our fighters continue to push through the barriers to improve the Army's food service program in Korea."
The 403rd AFSB oversees the Philip A Connelly awards program on the Korean Peninsula.
The Philip A. Connelly Awards Program was established on March 23, 1968 to recognize excellence in military food service. The program is named after the late Philip A. Connelly, past president of the International Food Service Executives Association. On January 1, 2014, the military partnered with the National Restaurant Association with a mission to build on the high standards of excellence maintained by IFSEA.
To view (and download) more photos from the ceremony, go to AFSB's 403rd Flickr album page at: https://www.flickr.com/photos/afsb403d/albums